A new approach to Mobile Food Van's Power Requirements
CUSTOMER DETAILS
Industry:                 Mobile Food Vans
Location:                 Minchinbury
Contact Name:      Ken Fackler
Position:                Business Development Manager
Company Name:    EIP Diesel
Email:                    ken.fackler@eipdiesel.com.au
Website:                www.eipdiesel.com.au
Company's Short Overview
EIP Diesel specialises in the sales, parts and service of some of the world's leading brands of industrial diesel engine power plants. EIP experience ranges from simple service through to major complex engine re-builds.
EIP Diesel  also meets any requirements you may have for custom application developments centred on vast expertise. This includes building pump sets, hydraulic packs, lighting towers and generator sets. EIP is committed to remaining up to date across new technologies.
Being the Kubota distributor, EIP are often engaged to provide compact generator sets to power mobile food vans. The mobile food vans have on-board, a large quantity of appliances requiring power and limited space to house a power source (generator).
EIP approached RFL Alternators looking for a more compact alternator that they could use in mobile food van application.  After modelling the RFL RF4-20 was chosen based on its high efficiency and compact size.
Situation
Squeezing a generator set into a very limited and confined space. Designing an efficient generator package that is reliable and fuel efficient. The customer required the generator      set to be positioned across the rear of the food van to enable easy access for servicing and greater internal working space within the van.
Solution
Our RF4-20 is lighter and smaller while being around half the length of competitor alternators. The stack length is is around 270mm shorter than the next smallest alternator.    This reduced length enabled gensets to be positioned across the rear as desired by the client.
The alternator bolted up to the Kubota engine easily and effectively. The adjustable location of the rear supports on the alternator enabled a reduction in the length of the skid.          The ease of installation and flexibility enabled EIP to complete the installation in a very short period of time.
PHOTOS / ILLUSTRATIONS
Photos of:
A Kubota V2203 water cooled diesel engine coupled to an RF4-20 four pole alternator.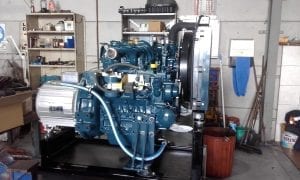 The compact genset positioned in the rear of the food van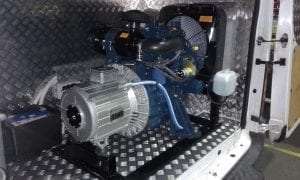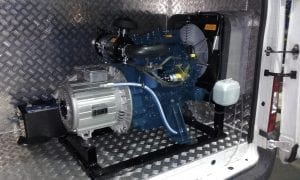 TESTIMONIALS/QUOTES
From RFL:
Jason Clegg from RFL says about working with 
"EIP has engineered and delivered a compact, high quality generator set. The installation in the food van is of class leading quality".
From EIP Diesel :
"The RFL alternator combined with the Kubota engine has enabled an extremely compact generator set. It is the fourth food van installation that we have used an RFL alternator. We and our client are very pleased with the outcome'.